Getting hit with those 3PM munchies and making a beeline to the nearest sugar hit on the daily? Let us save you! These bars are top-rated from our thousands of Australian customers and get the tick of approval for taste, texture and function.
When you're looking for a guilt-free treat, we have you covered. Forget that sugar rush from your cookies and candy that leaves you feeling even more drained and looking for that next hit. Get yourself a protein bar that tastes great, helps fill you up with protein and fibre, and contains ingredients to support your body composition.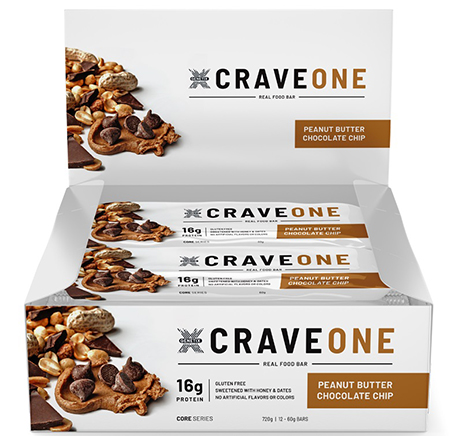 Nutritional stats:
270 Calories
15g of Protein
15g of Fat
3.0g of Saturated Fat
23g of Carbohydrates
18g of Sugar
4g of Dietary Fibre
Crave One Bars by Genetix Core Nutrition Series is made from real food ingredients! Get ready for a hit of nutrition with almond butter, whey protein, coconut oil, dates, honey and more. These bars are on the higher end in terms of calorie content, so you can use it in times when you don't have access to a full meal. Otherwise, if you're known to overindulge in multiple snacks, these will be your saviour. It's not just calories that count - it's also the sources of the calories. Better to fill up on real food ingredients than 'empty' calories!
A macro profile of 15g protein, 15g fat and 23g carbs means that you're getting a well-rounded solution for a craving crusher. As an added plus, these bars are gluten-free, soy-free and non-GMO!
Get your Crave One Bars by Genetix Core Nutrition Series now!
Nutritional stats based on one serve:
130 Calories
14.7g of Protein
3.5g of Fat
2.1g of Saturated Fat
3.5g of Carbohydrates
1.5g of Sugar
1.1g of Dietary Fibre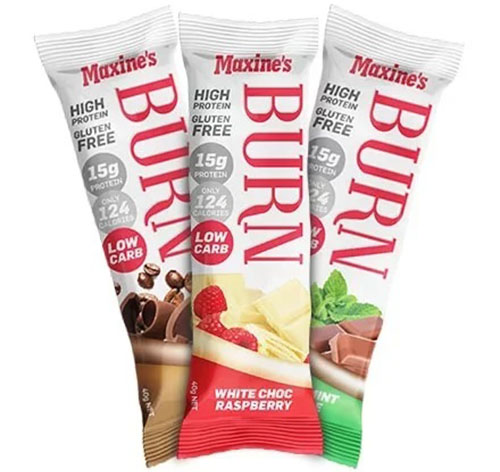 If you've been in any supplement or health food store, you'll probably notice the brightly-coloured Maxine's Burn Bars staring at you from the shelves. With crazy low calories for a protein bar, it's no wonder they are the top when it comes to best-selling snacks. Low carbs and sugar means it's great for your lower-carb diet, plus with only 130 calories per bar, it's super easy to fit these treats in any diet. Throw away your 3PM choccie and grab yourself a Maxine's bar for a chocolate-sweet treat sans the guilt.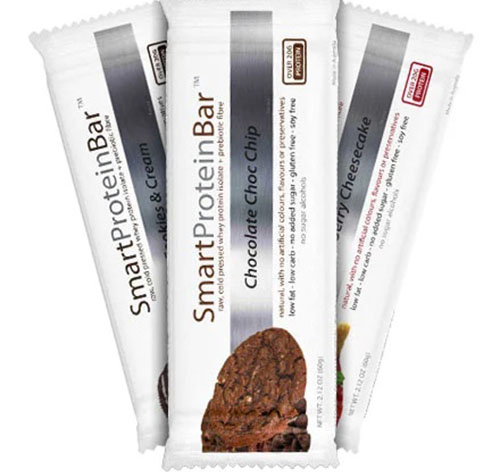 Nutritional stats (based of Banana Bread flavour):
166 Calories
20g of Protein
4.8g of Fat
0.4g of Saturated Fat
4g of Carbohydrates
3g of Sugar
18g of Dietary Fibre
These bars are considered the 'smart' choice in terms of macros, and if you're really watching your diet, then you may find these to be the most ideal option. With low net carbs and higher than average protein content, these bars will help you meet your macros in the leanest way possible. Plus, with a huge amound of dietary fibre, you'll find those cravings crushed for hours.
Nutritional stats:
385 Calories
24.3g of Protein
13.8g of Fat
9.8g of Saturated Fat
39.2g of Carbohydrates
23.1g of Sugar
250mg of Sodium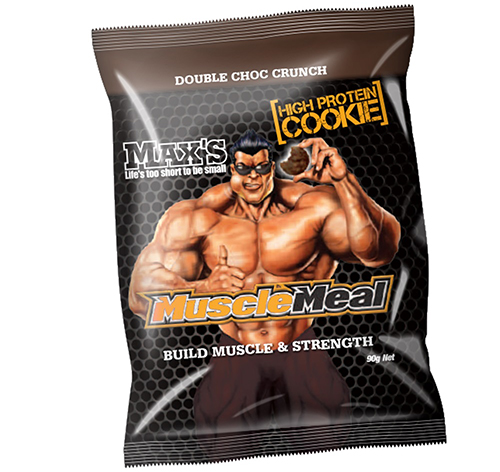 The Muscle Meal Cookie by Max's Supplements is an all-time favourite for the gym goers looking to gain lean mass. Due to the high calories, it can indeed be considered a 'meal'! If you want a high-protein snack to keep you going when you can't get access to a proper protein meal, then grab a few of these to keep in your emergency stash.
Each cookie contains 24.5g of protein from the best Whey Protein Isolate (WPI) and Whey Protein Concentrate (WPC). Therefore, you're getting the ideal amino acids to fuel your gains. Extra Branched-Chain Amino Acids (BCAAs) and L-glutamine are added to support your overall muscle growth and recovery needs. With almost 40g of carbohydrates, this cookie is also ideal as a pre or post workout! Get yours today!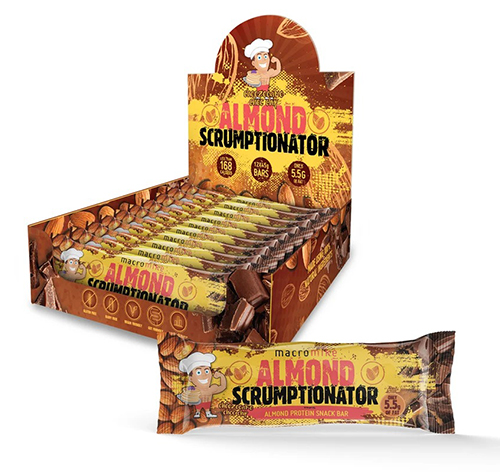 Nutritional stats based on one serve:
167 Calories
11g of Protein
5.47g of Fat
3.78g of Saturated Fat
18.87g of Carbohydrates
13.24g of Sugar
2.04g of Dietary Fibre
Vegan / plant-based? We got you! These taste amazing and really satisfy that sweet tooth - best of all, no irritating whey proteins or animal products! Based from the goodness of almonds and all-natural ingredients, you'll come back to these time and time again (or maybe it's just because of the flavour explosion!). If you're tired of eating fruit and nuts to keep you going, grab one of these bars to help you hit that all-important protein target. With 11g of protein that is all plant-based plus nourishing fats and carbs, one of these will keep you satisfied for hours!