Looking for protein bars that won't blow out your daily intake? With so many to choose from, you could spend ages browsing the store for the perfect bar. Let us help you save time by showing you some of the top picks for protein bars under 200 calories.
Here you'll find something for everyone, whether you're into whey, collagen or plant-based proteins! Shredding for summer doesn't have to be a chore. With smart snacking, you can enjoy a treat every day that still helps you reach your body goals.
1. Burn Protein Bars by Maxine's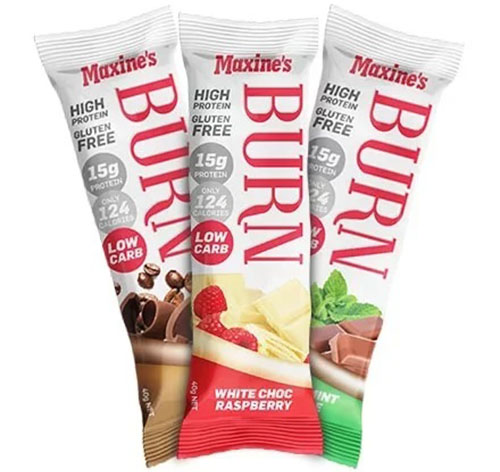 Nutritional stats based from Hazelnut Heaven:
154 Calories
13.8g of Protein
5.6g of Fat
2.0g of Saturated Fat
8.9g of Carbohydrates
1.3g of Sugar
4.4g of Dietary Fibre
Burn Protein Bars by Maxine's have to be at the top of the list for the most popular protein bars - people just love them, not just for the taste, but the fact that they are relatively low-cal when compared to other bars! They make a great little snack when you want a guilt-free sweet treat, with only 1.3g of sugar. Though it is lower in protein than some of the other bars, it still has a favourable macro profile.
If you are sick of your whey protein shakes and want a yummy option with plenty of flavours to choose from, Maxine's has you covered. As it contains whey protein, it is not suitable for plant-based eaters (don't worry, we have a couple of options for you too!). Get your low-calorie snack fix right here!
2. Smart Protein Bar by Smart Diet Solutions
Nutritional stats based on Vanilla Nougat:
163 Calories
20g of Protein
5.2g of Fat
0.4g of Saturated Fat
1.5g of Carbohydrates
0.7g of Sugar
18g of Dietary Fibre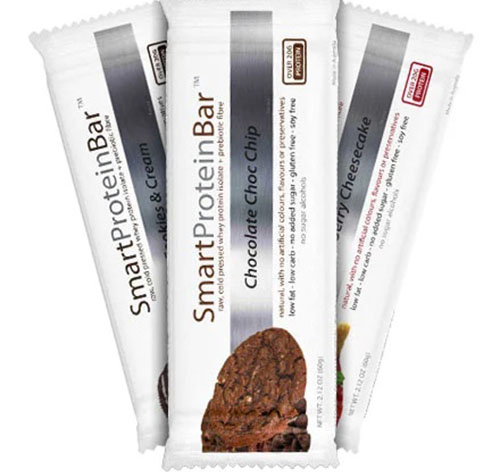 Why is it called the 'Smart Protein Bar'? The key lies in both the excellent macro ratios and the fact that these bars have only a few basic ingredients, and they are considered to be 'clean'. A lot of protein bars on the market have a huge list of unrecognisable ingredients, but Smart Diet Solutions is catering for those that want to satisfy the snack urge without eating unknown chemical additives.
With 20g of protein, the Smart Protein Bar by Smart Diet Solutions is comparable to a protein shake! Being extremely low carb with only 1.5g, it's suitable for those living a low-carb lifestyle. With a whopping 18g of dietary fibre, you'll feel fuller for longer, but remember to drink plenty of water as it's a lot of fibre to have all at once!
Like Maxine's, Smart Diet Solutions has an array of flavours to choose from. Ready to get smart? Get yours today!
3. Nourish Protein Crisp Bar by Aussie Bodies
Nutritional stats based on Coconut Almond:
148 Calories
10g of Protein
8.6g of Fat
4.4g of Saturated Fat
2.7g of Carbohydrates
0.8g of Sugar
6.4g of Dietary Fibre
Plant-based lovers, this one's for you. With only 148 calories, the Nourish Protein Crisp Bar by Aussie Bodies can easily slide into your calorie tracker with ample space for the rest of your food intake. It contains a plant protein blend, and, interestingly, a touch of Kombucha!
Vegan protein bars are often high in carbohydrates, so this is a great option if you're looking to save those carbs for other food. It's a tasty snack with chocolate coating to keep those cravings at bay, and a little crunch to give snack time a little more excitement. Tempted? Check it out here.
4. NoWay Collagen Bar by ATP Science
Nutritional stats based on Coconut Brownie:
167 Calories
25.7g of Protein
5.78g of Fat
5.25g of Saturated Fat
3.24g of Carbohydrates
1.22g of Sugar
9.54g of Dietary Fibre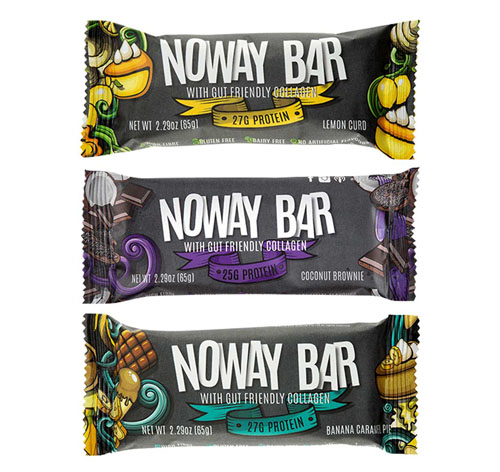 If you're a protein bar connosseiur, you're probably used to a particular style of texture and consistency. The NoWay Collagen Bar by ATP Science may be an initial shock to the system with its gummy-like texture, but it'll keep you satisfied for longer. Made from gut-friendly bovine hydrolysed collagen, you'll have a bar that won't make you feel like you're cheating on your diet.
High in dietary fibre and with an impresive 25.7g of protein, you'll have a bar that can really replace your collagen protein shake and keep you going for hours. Made without dairy, lactose or gluten, it suits most dietary types (except if you're vegan!). Go here now to get your collagen fix!
5. Clean Bar by Body Science BSc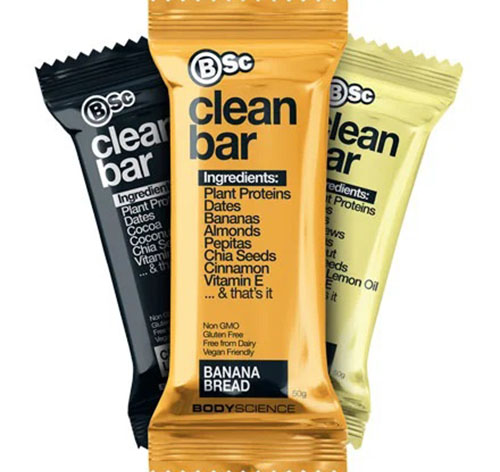 Nutritional stats based on Choc Lamington:
188 Calories
8.7g of Protein
7.0g of Fat
4.0g of Saturated Fat
24.5g of Carbohydrates
19.2g of Sugar
4.7g of Dietary Fibre
Lucky last we have a vegan-friendly bar made with love from the smart folks at Body Science BSc. Containing a mix of plant-proteins and naturally sweetened with dates, you'll find the Clean Bar by Body Science BSc gives you a good little energy boost. This is a great bar if you're doing glycogen-depleting exercise, due to the high-carb content (24.5g and 19.2g of sugar). Though it's not as macro-friendly as the other protein bars on this list, you can still have a 'clean' treat that fuels your performance. Get your clean fuel today!